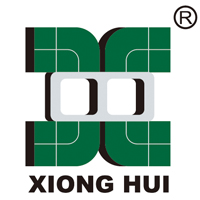 The main design elements of logo comprises of X and H come from the first letter of "Xionghui". X is highlighted by green color, a hollow concrete block in the center and cross lines perfectly symbolizes the designing thought, which implies as a road extends in all directions.

Metaphor
The enterprise is popular among customers for its quality products. "H"-shaped structure revealed by light gray color, in contrast to pure green color, like a opened book, a unforgettable symbol embodies the cultural meaning of Xionghui, namely,"Human-orientation and scientific innovation".

Color
Green and light gray. Green symbolizes environment protection and hope,which reflects awareness of environment of Xionghui.Light gray is the natural color of concrete.Using concrete blocks instead of clay bricks in building construction is today's benefit,tomorrow's merit,bodied forth Xionghui's brand-establishing idea to benefit the nation and common people.